Juniper Jane Self Foot Worship
$9.99
Juniper worships her feet in this Vintage Erotica themed video.
Juniper Jane Beach Bikini Goddess Worship
$4.99
Juniper shows off her perfect and toned Goddess body in a retro styled bikini and hat. You're not worthy
Femdom: Dildo Jerk-off and Domination
$7.99
You're on your knees in front of your ultimate Domme Mistress fantasy: Juniper Jane. She jerks off with her huge 9″ dildo, shaming your cock and reminding you that you are nothing compared to Goddess Juniper's gorgeous member. She strokes and tells you to pleasure yourself as she taunts you with her ass, legs, feet, and hairy armpits. Your cum is useless to her though and she demands you eat your own cum to satisfy her divine desires. Will you get on your knees for Goddess Juniper?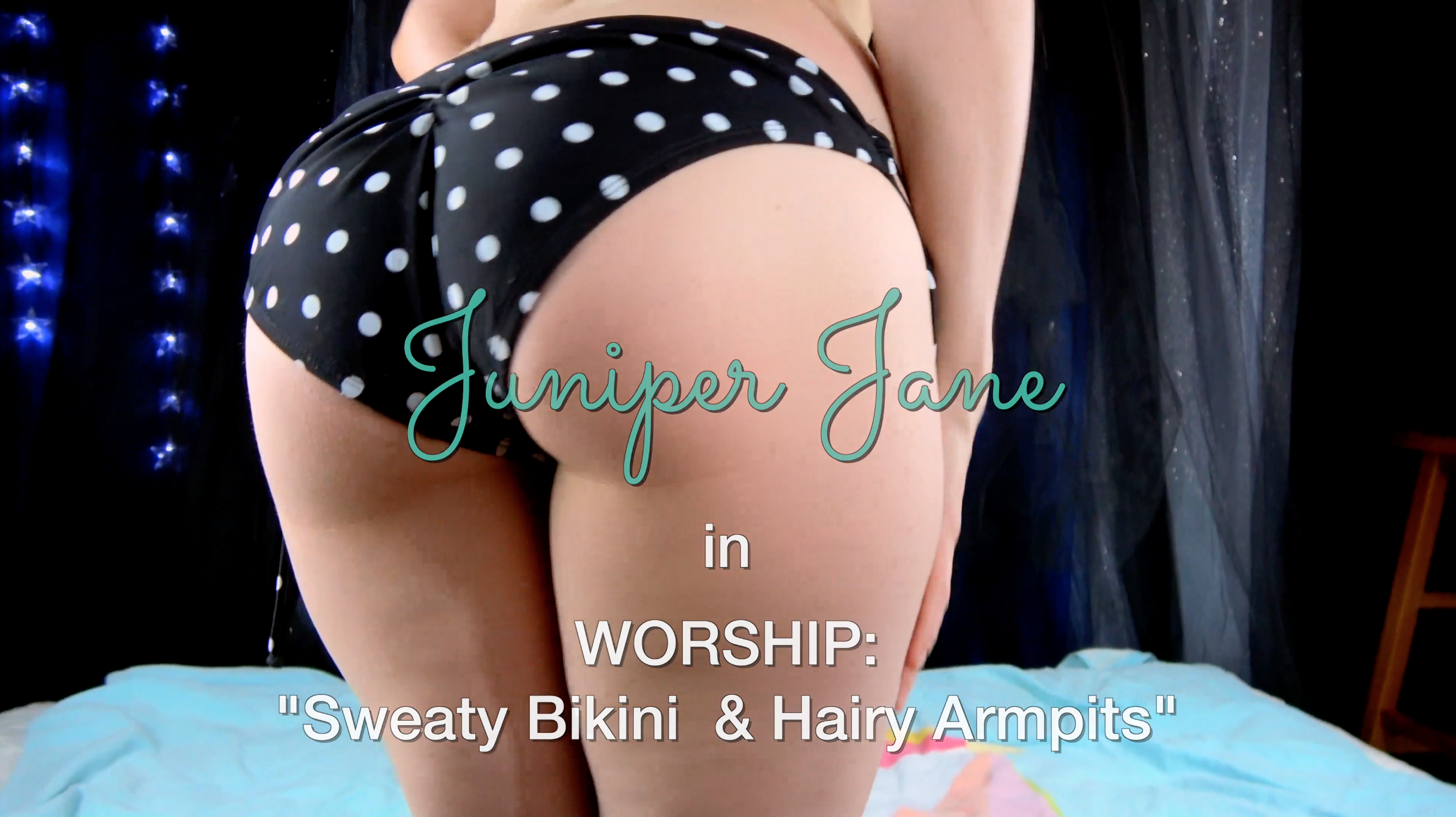 Worship: Sweaty Bikini & Hairy Armpit Self-Worship
$4.99
Juniper had a hot day at the beach, getting sweaty in the sun. It turns her on and she can't help but get in the mood, rubbing her glistening, gorgeous body and sniffing her hairy armpits. She's so sweaty her armpit hair is glistening with sweat and Juni can't help but lick and taste her soft & furry pits. The self-worship gets more intense and she falls back on the bed to caress herself all over and relax after such an intoxicating moment of indulgence.
Femdom: Daily Goddess Tease & Denial
$6.99
You would love to serve a Goddess this perfect in person but you can't– so you have to watch repeatedly as you are denied over and over. You must watch helplessly as her body and mind take control over you. You sit on your knees stroking in desperation but she is unimpressed. Juniper giggles as you squirm, reminding you that you will be denied everything. Juniper gets tired and walks out to leave you there. You know you don't deserve to cum, so you should end this video by denying yourself or even locking yourself up in chastity to practice pleasing Superior Beings such as Goddess Juniper Jane.
Juniper Jane Dildo Jerk off Instruction
$6.99
Juniper Jane has super abilities with dick control. She loves teasing and edging and getting cocks dribbling & pulsing in anticipation of her commands. Watch her as she lays out on a bed in black lingerie while stroking one of her favorite dildos that's like the big, juicy cocks she loves. She strokes it so well, telling you to stop and go, she teases and counts down until it is demanded of you to cum.
Worship: Hairy Armpits of Juni Domming in Black Lace
$5.99
Juniper Jane shows off her fit body, black lace domination outfit, and hairy, sweaty armpits. Her perfect body makes you want her dirty, hairy pits even more. She shows off her tasty body, glistening from how hot and bothered she gets after indulging in her own scent and the feel of her soft and fuzzy pits.